Welcome to VKDMR.COM, the new site for VKDMR.
We would like to extend a particular welcome to Foundation Licencees, who are now able to use digital modes.
There are a number of amateur DMR networks accessible from Australia. This website concentrates on the VK-DMR network (formerly known as DMR-MARC).
VK-DMR is a traditional, repeater based network – there are currently 42 repeaters from all over Australia connected to the network. We also offer hotspot connections.
There are a similar DMR networks in the UK (Phoenix – see here), the US and Europe.
Brandmeister is the other large, world wide DMR network. It also offers hotspot and repeater connections.
---
Update – we are moving the network to a new, even faster server.
Please change your hotspots to the new server IP: 43.245.72.67
You can also do a PiStar update – the new server is in the drop down list: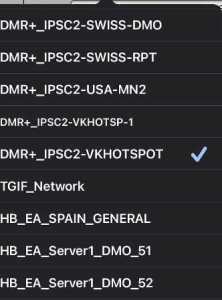 Old Repeater dashboard (IPSC2-VKDMR) : http://rpt.vkdmr.com
With the move to the new server, the repeater and hotspot dashboards have changed, to:
New repeater dashboard: http://43.245.72.66/ipsc/index.html
New hotspot dashboard: http://43.245.72.67/ipsc/index.html
The repeaters are currently (14/10/2020) split across two servers – the ones that are easy to get to (i.e. at an amateur's QTH, etc.) have moved to the new server.
The repeaters on mountain tops or similar hard to get to sites are still on the old server – the servers are connected together, so all the repeaters are still connected.