Welcome to VKDMR.COM, the new site for VKDMR.
We would like to extend a particular welcome to Foundation Licencees, who are now able to use digital modes.
There are a number of amateur DMR networks accessible from Australia. This website concentrates on the VK-DMR network (formerly known as DMR-MARC).
VK-DMR is a traditional, repeater based network – there are currently 55 repeaters from all over Australia connected to the network. We also offer hotspot connections.
There are a similar DMR networks in the UK (Phoenix – see here), the US and Europe.
Brandmeister is the other large, world wide DMR network. It also offers hotspot and repeater connections.
---
Update – we have moved the network to a new, even faster server.
Please change your hotspots to the new server IP: 43.245.72.67
You can also do a PiStar update – the new server is in the drop down list: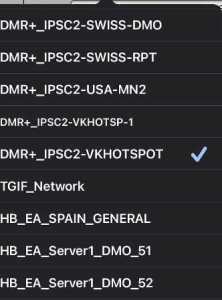 With the move to the new server, the repeater and hotspot dashboards have changed, to:
New repeater dashboard: http://rpt.vkdmr.com
New hotspot dashboard: http://hot.vkdmr.com