Unlike other amateur digital radio systems, DMR equipment is available from a number of manufacturers, with features ranging from the very simple to comprehensive. 
Prices start from around $200.
DMR equipment is designed for commercial use – it is rugged, durable, reliable and has high RF specifications.
The TDMA protocol used in DMR also provides up to 40% increase in battery capacity compared to conventional analogue portable radios.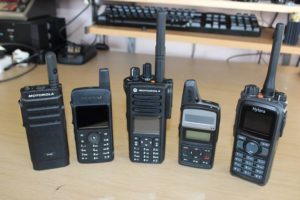 DMR portables (pic courtesy Manx Repeaters)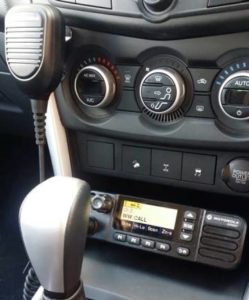 DMR mobile installation
Mobile and portable equipment is produced by the manufacturers listed below.  Some manufacturers may offer competitive pricing, provided the equipment is used exclusively for amateur radio.
There is also quite a lot of second hand equipment available on eBay and similar sites.
Commercial DMR use is growing rapidly, and many manufacturers are entering the market – particularly from China.  Accordingly, the list below may not be exhaustive.  E and OE.
DMR MANUFACTURERS (E AND OE)
Tait (There was a compatibility issue with DMR Motorola repeaters – this has been fixed..)