Every user on the DMR network has a 7 digit ID number. This ID number is sent with every transmission.
Numbers are internationally coordinated, with the first three digits representing the user's country. VK uses 505, the UK uses 234, etc.
The complete DMR number database is available for download at the radioid.net web site.
If you download all or part of the database into your DMR radio, it will do an automatic lookup on the ID in every received call and, if it finds a match, show the user's name and callsign on your radio's display screen: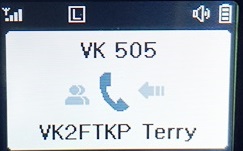 The shortcoming of this arrangement is that it requires a user to download (or type…) the contact list into their radio. The list changes quite often, so a new list must be downloaded every few weeks or so.
The international DMR standard has a feature called inband caller alias. This allows all radios to transmit a user-defined text string of up to 31 characters with every call – for amateur use, this would obviously be callsign and name.
Wayne Holmes DJ0WH runs are very interesting DMR blog at https://cwh050.blogspot.com/
He explains inband caller alias here:
https://cwh050.blogspot.com/2020/08/inband-caller-alias.html
This feature means that you never have to download (or type…) another contact list again, as everyone's callsign and name is sent with every transmission – like the D-Star system.
I understand that Motorola, Tait and Hytera support this feature.
However, like some DMR add-ons, it may not be backward compatible and may not be supported by our server infrastructure.
It will be very interesting to see how this feature develops.