One of the great advantages of DMR is that repeaters are designed to be linked together directly via IP.  This allows interconnection of repeaters in the next suburb, or on the other side of the world…
A number of DMR system designers who were also amateurs realised the potential offered by DMR for wide area connection of amateur repeaters.  They formed a world-wide network of more than 500 interconnected DMR repeaters, across 44 countries, including Australia and New Zealand.  There are more than 60,000 registered amateur DMR users.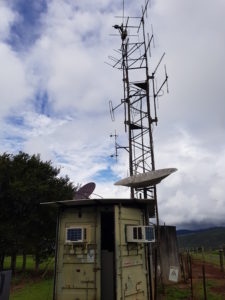 VK4RBK
Australian DMR amateur repeaters are located in most States/Territories.  
Most operate in the 438/9 MHz (70cm) UHF band.  
VK DMR NETWORK REPEATERS
A map showing DMR repeaters and their frequencies may be found here.

Matt VK2FLY's website lists current repeaters in real time:
live repeater stats
He also provides some very interesting network stats