TG1 and 13 can be used for working DX, but many DMR+ reflectors are also available to connect to all over the world.
These reflectors use the TG4xxx series talk groups. They are accessed via Slot 2 on your local repeater.
You use TG5000 to check the status of the reflectors (if required), and then your desired reflector TG to connect (see list below).
TG9 is then used for the actual QSO once you are connected.
TG4000 is used to unlink. Illustrated below: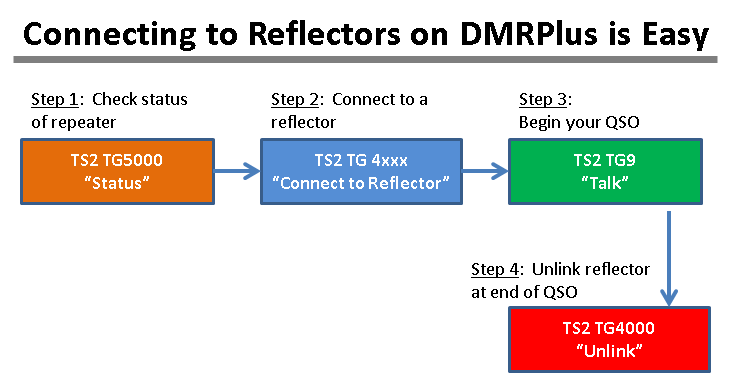 (courtesy dmr-marc.net)
DMR+ Reflector List
(courtesy www.pistar.uk)
There are 374 reflectors available on the DMR+ network.
Some of these may not be active. Experiment and see..

DMR+ Ref Number
DMR+ Reflector Name
Prefered Language
REF 4000
Disconnect
REF 4001
Germany
German
REF 4002
Hamburg
German
REF 4003
Elbe-Weser
German
REF 4004
Hessen
German
REF 4005
Rhein-Main
German
REF 4006
Ruhrgebiet
German
REF 4007
NRW
German
REF 4008
Wuerttemberg
German
REF 4009
Baden
German
REF 4010
DMRplus Chat
German
REF 4011
Heide
German
REF 4012
DSTAR DCS001_V
German
REF 4013
Rheinland-Pfalz
German
REF 4015
Bayern
German
REF 4016
Berlin
German
REF 4017
Niedersachsen-Ost
German
REF 4018
DL-Mitte
German
REF 4020
Weserbergland
German
REF 4021
Neuwied-Mayen-Koblenz
German
REF 4022
White-Sticker
REF 4023
Rhein-Neckar
German
REF 4025
Bayern-Ost
German
REF 4026
Franken
German
REF 4028
Thueringen
German
REF 4029
Sachsen-Anhalt
German
REF 4030
Harz
German
REF 4031
Niedersachsen-Sued
German
REF 4033
Geestland
German
REF 4034
Workshop Digital
REF 4035
DV4mini-Treff
German
REF 4037
Friesland
German
REF 4039
Sachsen
German
REF 4040
Osthessen & MKK
German
REF 4041
Mecklenburg-Vorpommern
German
REF 4044
Brandenburg
German
REF 4045
Rheinland-West
German
REF 4046
Muensterland
German
REF 4048
Greece-Ionian Sea Island
REF 4050
Ostwestfalen-Lippe
German
REF 4060
Switzerland German
German
REF 4061
Switzerland Francais
French
REF 4062
Switzerland Italian
Italian
REF 4063
Switzerland Bern
REF 4064
Region Basel
REF 4065
Aargau / Zentralschweiz
REF 4066
Switzerland Central-CH
REF 4067
Graubuenden
REF 4068
Switzerland Zuerich
REF 4069
Switzerland Ostschweiz
REF 4070
SWISS-ARTG
REF 4080
Liechtenstein
REF 4081
TAC-801
REF 4100
Multimode Chat 1
REF 4107
DMR<>NXD Gateway
REF 4110
TAC DE
German
REF 4148
Greece – Sporades Islands
REF 4150
DMR-CH
REF 4180
OE TEST
German
REF 4181
OE1 local
German
REF 4182
OE Hotspot
German
REF 4183
OE3 local
German
REF 4184
OE Wettersonden Talk
German
REF 4185
YL Reflektor
German
REF 4186
OE6 local
German
REF 4187
OE7 local
German
REF 4188
OE8 local
German
REF 4189
OE Support
German
REF 4190
OE DMR-Austria
German
REF 4191
OE 1 DMR-Ostregion
German
REF 4192
OE 2 DMR-Salzburg
German
REF 4193
OE 3 DMR-NOE
German
REF 4194
OE 4 DMR-Burgenland
German
REF 4195
OE 5 DMR-Oberoesterreich
German
REF 4196
OE 6 DMR-Steiermark
German
REF 4197
OE 7 DMR-Tirol
German
REF 4198
OE 8 DMR-Kaernten
German
REF 4199
OE 9 DMR-Bodensee
German
REF 4200
Ukraine
REF 4201
Ukraine2
REF 4222
IT YCS222 C4FM
Italian
REF 4228
Switzerland IPSC2
REF 4238
Denmark Talk
REF 4240
Greece – Emergency
REF 4241
Greece – Attika & Mainlan
REF 4242
Greece – Central & West M
REF 4243
Greece – Peloponnese
REF 4244
Greece – Thessaly
REF 4245
Greece – Dodecanese Island
REF 4246
Greece – Epirus
REF 4247
Greece – East Macedinia
REF 4248
Greece – Aegean Sea Island
REF 4249
Greece – Crete Island
REF 4250
Italy 222
Italian
REF 4251
IT-1 HF-DIGIT
Italian
REF 4252
IT-2 VHF-UHF/S
Italian
REF 4253
IT-3 RF-ANT-COSTR
Italian
REF 4254
IT-4 APRS E DIGIT
Italian
REF 4255
IT-5 TEST LINK
Italian
REF 4256
IT-6 MULTIP
Italian
REF 4257
IT-7 COMPUTER
Italian
REF 4258
IT-8 CONTEST/DIP
Italian
REF 4259
IT-9 EMERGENZA
Italian
REF 4260
IT-0 FREE
Italian
REF 4261
Italy Link
REF 4262
Deutschland Talk
German
REF 4270
Czech & Slovak
REF 4271
Czech – Talk
REF 4272
Slovak – Talk
REF 4280
Poland-Bridge
Polish
REF 4281
Poland 1
Polish
REF 4282
Poland 2
Polish
REF 4283
Poland 3
Polish
REF 4284
Poland 4
Polish
REF 4285
Poland 5
Polish
REF 4286
Poland 6
Polish
REF 4287
Poland 7
Polish
REF 4288
Poland 8
Polish
REF 4289
Poland 9
Polish
REF 4290
China 1
REF 4300
France – IDF
French
REF 4301
France – Mediterranee
French
REF 4302
France – Sud-Est
French
REF 4303
France – Midi-Pyrenees
French
REF 4304
France – Est
French
REF 4305
France – Ouest
French
REF 4306
France – Atlantique
French
REF 4307
France – Nord
French
REF 4308
France – Centre
French
REF 4309
France – Dom-Tom
French
REF 4311
France – Corse
French
REF 4320
Emergency Test France
French
REF 4325
Bourgo./Franche-C.
French
REF 4333
France-Gironde
French
REF 4340
Belgium
REF 4341
Belgium North
REF 4342
Belgium South
REF 4343
Belgium East
REF 4344
Belgium West
REF 4350
Luxembourg
REF 4357
Moselle
REF 4367
Alsace
REF 4370
Spain
Spanish
REF 4371
EA-1 Spain
Spanish
REF 4372
EA-2 Spain
Spanish
REF 4373
EA-3 Spain
Spanish
REF 4374
EA-4 Spain
Spanish
REF 4375
EA-5 Spain
Spanish
REF 4376
EA-6 Spain
Spanish
REF 4377
EA-7 Spain
Spanish
REF 4378
EA-8 Spain
Spanish
REF 4379
EA-9 Spain
Spanish
REF 4380
Latin America
Latin spanish
REF 4381
Mexico 1
Spanish
REF 4382
Mexico 2
Spanish
REF 4390
Dominican Republic
Spanish
REF 4391
Hawaii
English
REF 4400
UK Calling
English
REF 4401
UK – Chat 1
English
REF 4402
UK – Chat 2
English
REF 4403
UK – Chat 3
English
REF 4404
UK – Chat 4
English
REF 4405
UK – Chat 5
English
REF 4406
UK – 6
English
REF 4407
UK – 7
English
REF 4408
UK – 8
English
REF 4409
CQ-UK WIRES-X
English
REF 4410
SW England
English
REF 4420
NW England
English
REF 4430
Midlands
English
REF 4440
East England
English
REF 4441
East England 1
English
REF 4442
East England 2
English
REF 4444
DMR to DCS001 x
German
REF 4450
Scotland
English
REF 4451
Fife/Dundee/Angus
English
REF 4452
Cent & West Scotland
English
REF 4453
Highlands & Islands
English
REF 4454
XLX600E – Peanut
English
REF 4460
NE England
English
REF 4470
Wales
REF 4480
Norther Ireland
REF 4491
SE England
English
REF 4501
HF,QRP&DX&Contest
REF 4502
Skywarn & WX
REF 4503
Digital Radio
REF 4504
Satellites
REF 4505
Raspberry & Arduino
REF 4506
HAMNET & Packet Radio
REF 4507
NA Sports
English
REF 4508
UK Sports
English
REF 4509
VK/ZL Sports
English
REF 4510
Computer Programming
REF 4511
Astronomy
REF 4512
Auto Mechanics
REF 4513
Hunting and Fishing
REF 4514
Montreal Area
REF 4515
Handi Hams
REF 4520
IT-Trentino Alto Adige
Italian
REF 4521
IT-Veneto
Italian
REF 4522
IT-Friuli Venezia Giulia
Italian
REF 4523
IT-Lombardia
Italian
REF 4524
IT-Piemonte
Italian
REF 4525
IT-Valle D'Aosta
Italian
REF 4526
IT-Liguria
Italian
REF 4527
IT-Emilia Romagna
Italian
REF 4528
IT-Toscana
Italian
REF 4529
IT-Marche
Italian
REF 4530
IT-Umbria
Italian
REF 4531
IT-Lazio
Italian
REF 4532
IT-Abruzzo
Italian
REF 4533
IT-Molise
Italian
REF 4534
IT-Puglia
Italian
REF 4535
IT-Campania
Italian
REF 4536
IT-Sardegna
Italian
REF 4537
IT-Basilicata
Italian
REF 4538
IT-Calabria
Italian
REF 4539
IT-Sicilia
Italian
REF 4540
XLX313A Constellation
REF 4541
XLX 1 Quadnet
English
REF 4542
XLX 2 Quadnet
English
REF 4551
DMR-MARC Worldwide 1
English
REF 4552
DMR-MARC Europe 2
English
REF 4553
DMR-MARC North America 3
REF 4554
DMR-MARC Asia 4
REF 4555
DMR-MARC South Pacific 5
REF 4556
DMR-MARC Africa 6
REF 4557
DMR-MARC South America
REF 4560
DMR-MARC German 10
German
REF 4561
DMR-MARC French 11
French
REF 4562
DMR-MARC Dutch/Flemish 12
Dutch
REF 4563
DMR-MARC English 13
English
REF 4564
DMR-MARC Spanish 14
Spanish
REF 4565
Portuguese 15
Portuguese
REF 4570
Korea – All
Korean
REF 4571
Korea – HL1
Korean
REF 4572
Korea – HL2
Korean
REF 4573
Korea – HL3
Korean
REF 4574
Korea – HL4
Korean
REF 4575
Korea – HL5
Korean
REF 4576
Korea – HL0
Korean
REF 4577
Korea – 1004DMR
Korean
REF 4578
Korea – XLX171D
Korean
REF 4579
Korea – Test/Chat
Korean
REF 4580
Canada English
English
REF 4581
Canada Francais
French
REF 4590
Newfoundland, PEI
REF 4591
Nova Scotia
REF 4592
Quebec
REF 4593
Ontario
REF 4594
Manitoba
REF 4595
Saskatchewan
REF 4596
Alberta
REF 4597
British Columbia
REF 4598
N: Territories, YT, NU
REF 4599
New Brunswick
English
REF 4600
Florida
English
REF 4601
Georgia
English
REF 4602
North_Carolina
English
REF 4603
Texas
English
REF 4604
New York
English
REF 4605
Minnesota
English
REF 4606
Wisconsin
English
REF 4607
Indiana
English
REF 4608
Ohio
English
REF 4609
FCS002-90 USA
English
REF 4610
RF IT
REF 4611
Washington
English
REF 4612
Pennsylvania
English
REF 4613
Tennessee
English
REF 4614
Arizona
English
REF 4615
California
English
REF 4630
Puerto Rico
REF 4634
Colorado
English
REF 4635
USA DMR-Allstar
English
REF 4636
Illinois
English
REF 4637
Michigan
English
REF 4638
TAC310
English
REF 4639
USA – Nationwide
English
REF 4640
USA Midwest
English
REF 4641
USA New England
English
REF 4642
USA Northeast
English
REF 4643
USA MidAtlantic
English
REF 4644
USA Southeast
English
REF 4645
USA Southern Plains
English
REF 4646
USA Southwest
English
REF 4647
USA Mountain
English
REF 4648
USA Great Lakes
English
REF 4649
USA TriState IL,IN,WI
English
REF 4650
Sweden – generic
REF 4651
Sweden – North
REF 4652
Sweden – East
REF 4653
Sweden – South
REF 4654
Sweden – West
REF 4666
DMR-MARC Italian 16
Italian
REF 4667
DMR-MARC Nordic 17
Nordic
REF 4668
DMR-MARC Russian
Russian
REF 4669
DMR-MARC Chinese
Chinese
REF 4670
Romania
Romanian
REF 4671
Ruhrgebiet-Ost
German
REF 4672
Hellweg
German
REF 4680
Bulgaria
Bulgarian
REF 4700
Denmark – All
Danish
REF 4701
Denmark – Nordjylland
Danish
REF 4702
Denmark – Midtjylland
Danish
REF 4703
Denmark – Syddanmark
Danish
REF 4704
Denmark – Copenhagen
Danish
REF 4705
Denmark – Sjaelland
Danish
REF 4706
Bridge to DCS004 V
Danish
REF 4707
Bridge to Analog Sys
Danish
REF 4708
Denmark – Chat 1
Danish
REF 4709
Denmark – Test
Danish
REF 4710
Portugal-1
Portuguese
REF 4711
Portugal-2
Portuguese
REF 4712
Portugal
Portuguese
REF 4714
Catalonia
REF 4716
DK-QSY 1
Danish
REF 4717
DK-QSY 2
Danish
REF 4718
DK-JOTA
Danish
REF 4721
DMR+ Peru
Spanish
REF 4722
DMR+ Argentina
Spanish
REF 4723
DMR+ Colombia
Spanish
REF 4724
Brazil 1
Portuguese
REF 4725
Brazil 2
Portuguese
REF 4770
Hungary
Hungarian
REF 4771
Hungary – Test
Hungarian
REF 4780
Finland OH0
REF 4781
Finland OH1
REF 4782
Finland OH2
REF 4783
Finland OH3
REF 4784
Finland OH4
REF 4785
Finland OH5
REF 4786
Finland OH6
REF 4787
Finland OH7
REF 4788
Finland OH8
REF 4789
Finland OH9
REF 4790
Finland QSY1
REF 4791
Finland QSY2
REF 4792
Finland allmode linking
REF 4793
Finland Testing
REF 4794
Finland SAR1
REF 4795
Finland SAR2
REF 4796
Finland Bulletin
REF 4800
Australia
English
REF 4801
Capital Territory
REF 4802
New South Wales
REF 4803
Victoria
English
REF 4804
Queensland
English
REF 4805
South Australia
English
REF 4806
Western Australia
English
REF 4807
Tasmania
English
REF 4808
Northern Territory
REF 4809
VK9 External Territories
REF 4810
VK Emergency WICEN Group
REF 4812
Nicosia
Greek
REF 4813
Famagusta
Greek
REF 4814
Larnaca
Greek
REF 4815
Limassol
Greek
REF 4816
Paphos
Greek
REF 4817
Kerynia
Greek
REF 4837
Francophone
REF 4850
New Zealand
REF 4851
South Pacific
REF 4852
Philippines
REF 4860
Turkey-1
Turkish
REF 4877
France-Seine et Marne
French
REF 4900
Japan
REF 4911
ARES
REF 4930
Pan Hellenic
REF 4932
Canada Francais Intl.
French
REF 4990
System Link1
REF 4991
System Link2
REF 4992
System Link3
REF 5000
Information